Construction can be a tough business anywhere, especially when you're trying to get paid. But where you do construction work often makes a big difference. An area booming with construction starts can mean more business opportunities. Better weather can mean higher productivity and fewer jobsite delays. And simpler mechanics lien laws mean stronger payment protection for contractors and suppliers. These are the top 10 cities for construction in the United States.
The 10 Best Cities for Construction
Seattle, WA
Salt Lake City, UT
Boston, MA
Phoenix, AZ
Las Vegas, NV
Sacramento, CA
St Louis, MO
Houston, TX
Austin, TX
Orlando, FL
We compared the 50 biggest US cities (including their greater metro areas) on 6 construction-related factors — jump to the end for more on the methodology.
#1 Best City for Construction: Seattle, WA
Seattle may be known as "Rain City," but it more than makes up for its lack of sunshine when it comes to other factors. Seattle topped the list for safety, with just 0.05 construction fatalities per 1,000 laborers between 2017 and 2020. The city also enjoys one of the highest rates of construction employment in the country.
Seattle earned middle-of-the-road numbers for the state's mechanics lien law. While Washington is a full price lien state — that's good for contractors and suppliers — it doesn't regulate lien waivers and has rather confusing deadlines.
2. Salt Lake City, UT
Boosted by Utah's mechanics lien law, which provides strong payment protection for construction businesses, Salt Lake City also scored high in construction employment and weather. With significant growth in downtown high rises in recent years, it's no surprise that SLC came in at #10 out of 50 for construction starts per capita as well.
3. Boston, MA
With Beantown buckling up for the city's new tallest building, Boston lands at #3 on the list of the best cities for construction. Coming in just behind Seattle in the safety category, Boston had just one reported OSHA fatality in the past 3 years. The city was #10 out of 50 for construction starts per capita, and #14 for laborer salaries, likely buoyed by Boston's strong union presence. 
Boston's overall score was dragged down by Massachusetts' complex mechanics lien laws. Short deadlines and conflicting rules for different situations can dissuade unpaid contractors from filing a claim. Plus, it's an unpaid balance state if the proper notices aren't sent, which means that if the GC runs off with their check, the subcontractor can potentially lose their money along with their lien rights.
4. Phoenix, AZ
There's a good reason their NBA team is named the Suns. With 301 days of sunshine per year, Phoenix is the sunniest of any US city, period. That's good for construction businesses in the city. So is Arizona's mechanics lien law. The state's 20-day preliminary notice rules offer sliding protection for late notice, and statutory lien waivers help prevent contractors from accidentally giving up lien rights before they get paid.
Phoenix is smack dab in the middle of the pack when it comes to wages: Construction managers earn an average of $99,800, with laborers average take-home earnings of $38,420.
5. Las Vegas, NV
Few construction lists would be complete without Vegas, baby! The constant competition for tourism dollars makes this gambling desert metropolis a shining beacon for construction businesses. The city has taken a hard hit amid the pandemic-driven tourism drop, but if conventions can come back in 2021, it may be poised for a sharp rebound.
Like their Phoenix-based counterparts, contractors in Las Vegas enjoy plenty of sun and warm weather as well as good payment protection from Nevada's mechanics lien rules. Contractors in the state have a full 31 days to serve notice, with sliding protection if they miss the deadline. Though the lien filing deadline (90 days) and enforcement deadline (6 months) are relatively short in comparison to other states, the law provides statutory lien waiver forms and prohibits "no-lien" clauses in contracts.
6. Sacramento, CA
Move over, Silicon Valley! With high construction employment, 269 days of sunshine, and higher-than-average salaries, Sactown's building industry is hot.
California's mechanics lien law provided Sacramento another boost. Though the state has really short deadlines for filing and enforcing a lien (90 days for both), the state's 20-day preliminary notice rules and prohibition of no-lien clauses give contractors good protection against non-payment.
The biggest factor holding them back? Safety. In the last 3 years, the city has averaged 1.02 construction deaths per 1,000 laborers. That's not the worst record in the country, but it's not the best.
7. St Louis, MO
Looking for a living wage in construction? Look no further than St Louis. The Gateway City was #1 for laborer salaries ($54K) and #2 for construction manager salaries ($113K) after adjusting for inflation. Though St Louis was only #39 on the list for construction starts, it seems there's plenty to go around — they're #18 for construction employment.
The greater St Louis metro area stretches into Illinois, so contractors and suppliers doing business across state borders need to stay on top of both Illinois and Missouri mechanics lien laws. Fortunately, both offer similar levels of protection. While Missouri doesn't require any notices to retain lien rights, Illinois does in some cases. Longer lien deadlines in both states give contractors more time to negotiate their payment: 6 months in Missouri, and up to 2 years in Illinois.
8. Houston, TX
Houston scored high marks for both construction activity and labor, taking the top spot for construction employment per capita. The city came in at #8 for construction starts, with more than $26.5 billion in new activity in 2019. Adjusted for cost of living, H-town was #13 for manager salaries ($99,990) and #21 for laborer salaries ($36,380).
These bright spots helped overcome Houston's lowest scores. With 73 construction deaths in the last 3 years, Houston was 8th from the bottom in safety. And Texas mechanics lien laws are some of the most confusing, complicated statutes in the country, making it extra difficult for construction companies to protect their payments. With statutes often requiring multiple monthly notices to save lien rights, and only offering unpaid balance protection, the Lone Star State came in second-to-last in our lien law ranking of all 50 states.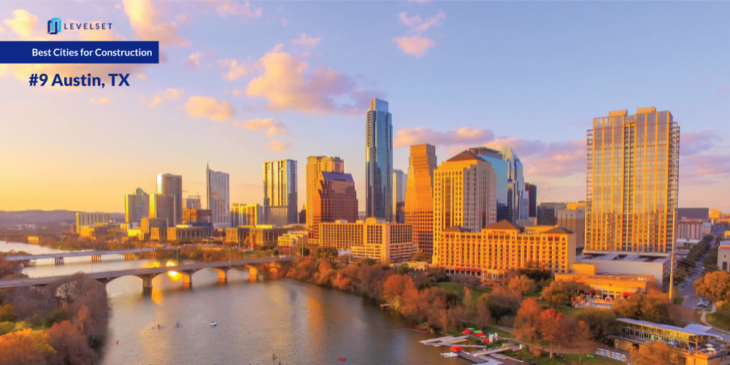 9. Austin, TX
The building business is booming in Austin. With new construction valued at over $4,600 per resident, the city ranked #2 for construction starts in 2019. Add in high employment (#6), sunny weather (#15), and manager salaries (#18), and you've got a recipe for a contender.
Austin's score was sandbagged by the same safety and mechanics lien maladies as Houston. Yet, even with over 1.3 fatalities per 1,000 laborers and some seriously complex lien laws, the city still made it into the top 10.
10. Orlando, FL
Orlando earned its spot in the top 10 thanks to $10.3 billion in total construction starts in 2019 which, at nearly $4,000 per resident, put it at #5 overall. Orlando also landed the #5 spot for construction employment. Of course, you knew climate was going to be a strong suit for the Sunshine State — the city's 233 days of sun earned it the #12 spot for weather.
Orlando didn't do as hot in other categories. The city was 8th from last for average construction laborer salaries ($33,210). It was also in the bottom third for safety, with 18 construction deaths in the last 3 years, or 1.6 per 1,000 laborers. And Florida's complicated lien law leaves a lot to be desired.
How the best cities for construction made the list
To rank the 50 largest US cities for construction, we compared them on six factors:
Construction starts
Employment
Salaries
Safety
Weather
Mechanics lien protection
Construction starts
Year: 2019
Construction starts reflect the value of breaking ground and beginning work on projects in residential, commercial, and industrial sectors. The higher the value of starts, the better for construction businesses looking for projects to bid.
In absolute terms, New York City dominated this category, with $51.9 billion in estimated construction starts in 2019 — almost twice as much as second-place Houston's $25.6 billion. But NYC is also the most populous metro area in the country, with nearly 20 million residents. There's a lot of construction activity in New York, but there is also a lot of competition for those projects. When construction starts are calculated on a per-capita basis, New York drops to #29 on the list.
Most starts overall: New York City ($51.9b)
Cities with the highest construction starts per capita:
Nashville, TN ($4,754)
Austin, TX ($4,651)
Raleigh, NC ($4,403)
Construction labor
Data source: Bureau of Labor Statistics
Year: 2019 (May)
Construction businesses need a pool of high-quality skilled labor to survive. Higher construction employment is a strong signal of a robust job market, supplying talented laborers to contractors and suppliers. Unfortunately, construction employment has not fared well for select job markets. According to an AGC survey in October 2020, nearly 1 in 4 construction businesses reported project disruptions due to labor shortages.
Again, New York took the overall spot in absolute terms, but fell to 14th place when adjusted for the population.
Highest construction employment (absolute): New York, New York (66,210)
Cities with the most construction employment per 1,000 residents:
Houston, TX (4.6)
Salt Lake City, UT (4.47)
Seattle, WA (4.42)
Construction salaries and wages
Data sources: Bureau of Labor Statistics, Numbeo
Year: 2019 (May)
High salaries indicate a competitive and skilled labor market that is good for construction business. We compared average salaries for both construction managers and laborers separately, and adjusted the figures based on the cost of living index for each urban area.
Construction manager salaries
With an average construction manager salary of $148,140, New York City wins in absolute terms — but drops to the bottom of the list when adjusted for cost of living.
Cities with the highest average construction manager salaries (adjusted for cost of living):
Charlotte, NC ($117,620)
St Louis, MO ($113,770)
Columbus, OH ($107,420)
Construction laborer salaries
The Midwest is one of the best regions in the country for construction laborers when it comes to income, with nine of the top 10 spots falling between Missouri, Illinois, Ohio, Minnesota, and Wisconsin. According to the BLS, construction laborers have the highest salaries in Chicago, IL, earning an average of $64,870 annually. When adjusted for cost of living, the city only dropped one spot, to 2nd place.
Cities with the highest average average construction laborer salaries (adjusted for cost of living):
St Louis, MO ($54,820)
Chicago, IL ($64,870)
Columbus, OH ($47,890)
Safety
Data source: OSHA
Years: 2007 – 2010
Safety is an enormous concern for the industry, considering that construction is one of the top 10 most dangerous jobs in the country, with 21 fatal injuries per 100,000 workers in 2019. Some of the most staggering key construction statistics from 2018 involve safety. In 2018, one in five US worker deaths were in construction with 1,008 total construction worker deaths in private industry that year.
Cities with the fewest fatalities per 1,000 construction laborers:
Seattle, WA (0.057)
Boston, MA (0.07)
Buffalo, NY (0.27)
Weather
Data source: BestPlaces Climate
Poor weather comes with a cost to construction businesses and laborers alike. Weather not only causes jobsite delays and disputes, but can also damage the equipment or cause dangerous conditions. We compared cities by the number of days of sunshine each city receives on average.
Cities with most days of sunshine:
Phoenix, AZ (301)
Las Vegas, NV (294)
Los Angeles, CA (284)
Mechanics lien laws
At the end of the day, it doesn't matter how much sunshine a contractor enjoys if they can't get paid for their work. Mechanics lien laws give construction businesses a powerful tool to collect payment. Unfortunately, each state has their own rules and requirements that, in some cases, become a barrier that prevents contractors and suppliers from actually using them.
We studied the lien law in each state based on common factors:
We graded each state's mechanics lien law based on their ease of use and overall protection for construction businesses.
Best cities for mechanics lien protection:
Salt Lake City, UT (10/10)
Phoenix, AZ (9.38/10)
Las Vegas, NV (8.33/10)