An organizational chart is a critical component of any construction business. It gives everyone in the company a visual hierarchy of roles within the company, and specifies who is responsible for making decisions within the organization. Producing a flow of accountability can help you make smart decisions, empower your employees, and remove bottlenecks. In this article, we'll explore common roles in a construction company, and how they typically fit into an organizational chart. We'll also look at some examples of org charts in action.
Hierarchy in a construction company
Every construction company is different. From their geographical location and the types of projects they run to the individuals that move the company forward, they're all slightly different. But the way that most companies are organized (at least the well-designed ones) is usually pretty similar.
Like the individual departments, the responsibilities of these tiers have nothing to do with shop size. A large company might have multiple people in each tier, while a small company often gives multiple responsibilities to a single person.
Levels of responsibility
Every company has different levels, or tiers, of responsibility. As you move down the organizational chart, the roles move from strategy and management to task-specific jobs. In lower levels of responsibility, there can be dozens — if not hundreds — of employees, each working on their own portion of the larger work.
Ownership
Large construction companies generally have a Board of Directors that steer the overall direction of the company, and a CEO who reports to them. Contractors with fewer than 50 or so employees may just have a single person at the top, the President or Owner.
Executive
The executive team works closely with the CEO to develop company strategy and communicate it to the rest of the company. Large construction companies can have a range of executives, each one heading their respective division. Actual titles vary, and may be called vice presidents or chief officers, like VP of Operations or Chief Financial Officer (CFO).
Director
Larger construction companies will often have several directors working underneath executives. For example, there will likely be a marketing director, an engineering director, a sales director, and a director of operations. The engineering and operations director often report to the Chief Operating Officer (COO), while the sales and marketing directors may report to the Chief Marketing Officer (CMO).
Manager
Under the director level is the manager tier. These individual managers run the actual teams of which they're in charge. Roles such as financial managers, accountants, construction managers, job superintendents, project managers, and marketing managers fit in this tier. Large companies are likely to have several of these roles across the different divisions and projects.
Support
Support staff is responsible for much of the legwork, supporting the managers and directors of each division. They report to the managers and fill roles such as assistant managers, office managers, account managers, and assistant project managers. A large company might have several people in each job title to share the responsibilities.
Entry-level
Everyone has to start somewhere, especially in a large construction company. The entry-level tier typically consists of administrative assistants, interns, and specialists. Some assistant project managers may start at this level, as well.
We buy the supplies, you get to work.
Get Materials Financing with up to 120-day payment terms.
Learn more
Common divisions in a construction company
Construction companies have all of the same divisions and activities as a regular business — sales, marketing, finance — but at the same time, they are entirely unique.
Operations/Construction
Someone at the company should be in charge of the actual construction work. This division may be called "operations" or "construction," and includes all of the construction managers, superintendents, equipment operators, and the like. In some companies, the operations division may include departments for safety, construction technology, and other roles that contribute directly to the building work.
Common roles:
Construction Manager
Engineer
Estimator
Superintendent
Equipment Operator
Finance & Accounting
The finance and accounting division plays a vital role: keeping your company profitable and cash flow positive. Construction has one of the highest rates of business failure of any industry, thanks in large part to payment delays and disputes.
Success or failure nearly always hinges on a company's ability to manage cash flow, and this team is responsible for controlling the flow of money both in and out of the door.
Common roles:
Accounts Receivable Specialist
Accountant
Office Manager
Learn more about what makes construction finance unique
Business Development & Marketing
"Business development" is another term for sales. Sales and marketing often fall under the same business division, since they are both trying to win more business for the company. The sales team needs to work closely with the financial team to ensure that they're not just winning new business — but that they're choosing the right customers who will pay their invoices on time.
Common roles:
Sales Director
Marketing Manager
Human Resources
The construction industry is one of the country's largest employers. Construction businesses rely on skilled workers to survive, and the human resources department makes sure that all of the roles are filled, the employees are happy, and the company is complying with employment regulations, like prevailing wage requirements.
Common roles:
Chief Human Resources Officer (CHRO)
People Operations Manager
Office Manager
Information Technology
Few construction companies had an information technology department just 20 years ago, but the rise in the Internet of Things and the digitization of data has made this division increasingly common. The IT department is responsible for ensuring company and customer data is secure, and that software and technology is working as it should. Field teams are using software, smart phones, and drones to track project progress. Office teams are using accounting applications and software to collect payment and protect lien rights.
Common roles:
Chief Technology Officer (CTO)
IT specialist
Database Administrator
Importance of an organizational chart
An org chart is a roadmap for how your company goes from facing an issue or a challenge to coming up with a solution. As Shawn Van Dyke puts it, an organizational chart is a "visual representation of how a [construction] business makes decisions."
Every day, you and your people make decisions that steer the direction of the company. Every decision, no matter how small, has some type of impact. Some decisions don't need to make it past the entry-level tier, while others require the entire company to circle the wagons.
The CEO needs to focus on the big decisions. If they're expected to sign off on every small decision, they're creating a bottleneck. Every issue has to flow through them. Wouldn't it be better if the company employees could turn to a "chain of command" to solve the issue at the lowest level possible? That's the value that a construction company organizational chart brings to the table.
Construction organizational chart examples
Large construction company org chart
The organizational chart for a large construction company can be quite complex, with roles that are often highly specialized. They may have a whole team of Accounts Receivable Specialists or Credit Managers, each one assigned to oversee their own specific accounts.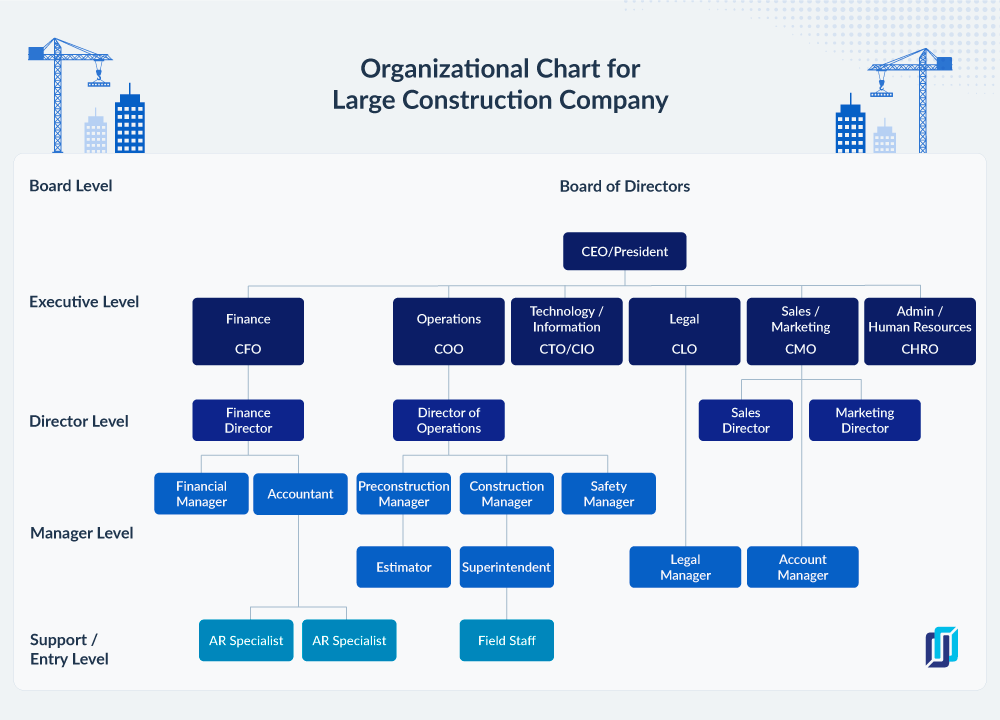 Small construction company org chart
Across the US, construction is still very much a family business for many companies. These contractors may only have a handful of employees. Many of the day-to-day duties, like billing, accounting, and personnel paperwork fall to the unsung hero of small construction companies: the Office Manager.
Real-world examples
It's helpful to take a look at some real-life organizational charts to get a feel for how these charts work.
Mike Brown Electric Co., an electrical contractor based in Northern California, is a relatively small company that is heavily construction-focused. Their company is largely organized around the operational departments: Commercial construction, industrial construction, traffic signals, and service.
Their office manager clearly occupies an important role in the company, reporting directly to the CEO. She likely wears a wide variety of hats.
Rafael Construction, Inc. is a commercial, framing, and civil construction company based in Las Vegas. Their org chart identifies the flow of decisions in some areas, but leaves some roles and responsibilities undefined or unclear.
The accounting department is organized under the Project Estimator, but leaves no one specifically in charge of collecting accounts receivable.
Smaller companies can get away with less well-defined org charts, since there are fewer people to get in the way. But as a company grows, these gaps in responsibility can cause communication problems.
Of course, some companies use an organizational chart as a customer service tool rather than an internal document. In these cases, they may publish a limited org chart simply to help their customers find the right person to contact.
Building the right organizational structure
Companies have to make decisions, and an organizational chart gives the people that make up a company the tool they need to do so. Just as it's important for a construction company to protect its lien rights and meet licensing requirements, it's also critical for a growing, successful company to have a clear chart of responsibilities for solving problems and handling day-to-day tasks.
How are you involved on a construction project?
Please select one of the following
Get 120-day terms on materials with Materials Financing.
Was this article helpful?
123
out of
136
people found this helpful