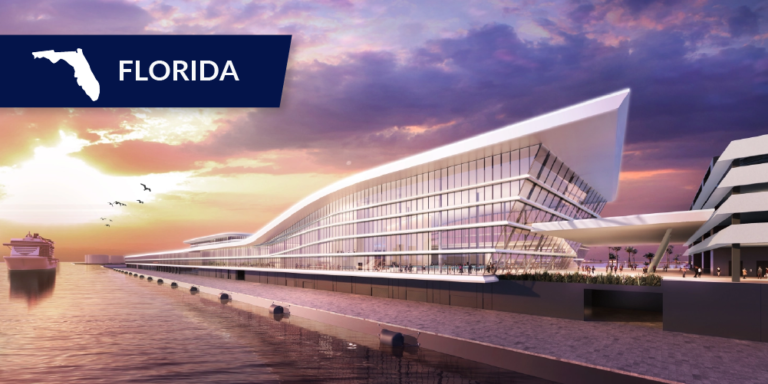 March 10, 2022, saw cruise operator Mediterranean Shipping Company break ground on its new $350 million terminal at PortMiami in Miami, Florida — a project that, once finished, will be the largest cruise ship terminal in North America. 
While this announcement has been positive news for Miami residents and local contractors, it's important for construction workers involved in major projects such as this to balance financial risk and protect their payment rights.
Contractors in this article
Italian GC to head up North America's largest cruise ship project
According to a release from Mediterranean Shipping Company subsidiary MSC Cruises USA, the terminal will consist of a four-story building with space for three ships to dock at once.
"It will be the largest and most technologically advanced terminal in the United States, a new benchmark in the sector, as well as one of the most significant investments made in Miami," said Pierfrancesco Vago, Executive Chairman of MSC Cruises. "It will allow [MSC Cruises] to strengthen and further grow in the most important and competitive cruise market in the world."
Work on the terminal began in July 2021, at which time MSC Cruises also announced its partnership with general contractor Fincantieri Infrastructure. The project has an ambitious timeline, too, as the company is aiming for construction to wrap up by the end of 2023.
The Italy-based construction group has some significant experience in this sector. One of the company's subsidiaries, Fincantieri Infrastructure Opere Marittime, specializes in the construction of maritime infrastructure, including "port structures, coastal defense works, and dredging."
There is a significant likelihood of sustainability-focused construction coming to PortMiami in tandem with this project, too. In February 2021, Miami-Dade County and MSC Cruises USA — among others — signed a letter of intent to implement sustainable shore power at the port in order to avoid pollution from cruise ships, and though the timeline of that implementation has been unclear, the county hopes to have it done by the end of 2023.
As cruise industry rebounds, construction opportunities come with some risk
It's possible that ambitious projects like these will become more common in the near future. With luxury travel and cruise lines heavily impacted during the first two years of the COVID-19 pandemic, 2022 has seen a number of countries relax pandemic-focused health restrictions which would allow cruise ships to operate normally again.
A $350 million project definitely presents lots of work and profitability opportunities for those involved. However, projects that rely so heavily on the success of the cruise ship industry can be derailed, and contractors in the area should be cautious in dealing with such a large project — especially in Miami.
In August 2020, contractors filed $15.8 million in liens on a major Royal Caribbean Cruises construction project — with contractors allegedly being paid less than $250,000 out of that full balance — after Royal Caribbean halted construction due to the financial impact of the COVID-19 pandemic. The company reported a $1.3 billion net loss in the second quarter of 2020 — the type of financial impact that lots of cruise companies experienced and may see again in the future in the event of new waves of COVID variants.
Despite these possibilities of a setback, MSC Cruises USA is still focused on expansion in the short-term, as the company also is planning to start operating year-round cruises departing from New York in 2023.
Regardless of the focus, protecting your payment rights on major projects like these is of paramount importance. Mechanics liens have significant power over ambitious construction work — as evidenced by the prior Royal Caribbean project, non-payment can completely derail plans for even the largest of companies.
Maintaining your payment rights — whether through sending proper preliminary notices, staying focused on deadlines, or simply staying on top of the details of your state's lien laws — could very well be what helps you avoid a payment disaster.