Florida Notice of Bond Form
Download your

Notice of Bond Form
About Florida Notice of Bond Form
On private construction projects in Florida, one way for property owners can protect against liens is to require the general contractor to post a payment bond. If a payment bond has been posted, and a claimant subsequently files a claim of lien against the property, the owner or GC must file a Florida Notice of Bond form. This form is filed in the county recorder's office in the county where the property is located, along with a copy of the payment bond.
Once filed, a copy of the Florida Notice of Bond should be served on the claimant informing them that a payment bond exists, and claims should be made directly against the bond. This form must be notarized by the filing party and include a copy of the recorded lien claim, as well as a copy of the payment bond.
• Note: if a claim of lien is filed before a payment bond has been posted, then the owner/GC may transfer the lien or "bond off" the claim in Florida under Fla. Stat. §713.24.
Complete the form on the right to download your free Florida Notice of Bond that can be filled out with a PDF editor or by hand after printing. Use this template to inform lien claimants that a bond is present on a private construction project in the state of Florida.
Skip the hassle of sending payment documents yourself.
We're the payment document experts. With us it's fast, affordable, and done right!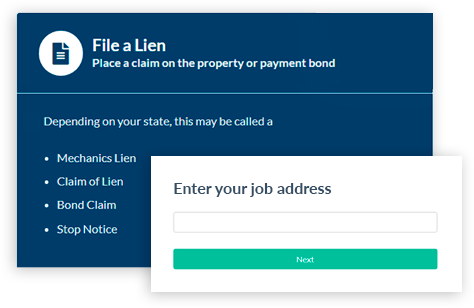 Florida County Recorders
Looking to file/record a mechanics lien in Florida? You'll need to get your Florida mechanics lien filed and recorded with the county recorder in the county where the construction project is located. Here is a listing of all county recorders in Florida. Click on any county to find more information about how to get your lien recorded in that county.
Learn about Contractors near you in Florida and How they Pay
See other Lists of Contractors and How to Best Work With Them