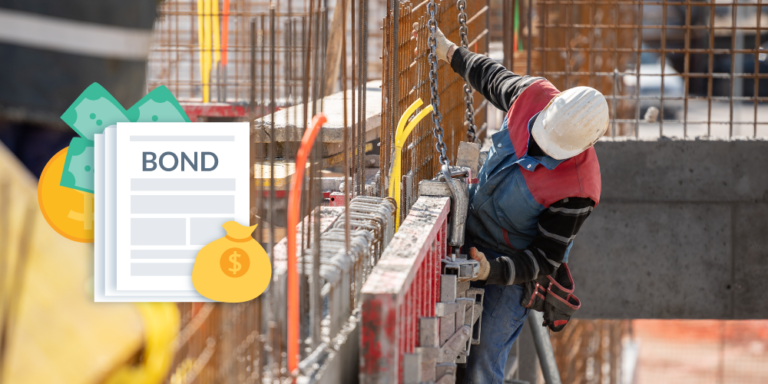 Being bonded and licensed is a big factor in contractors being able to work — and get paid — in the city, county, or state they work in. Many licensing organizations require a bond before contractors can begin work, but knowing how, when, and where to obtain a bond can be confusing.
Read more: Types of bonds used in construction
What is a surety bond?
A surety bond is a financial guarantee or contract that ensures the party obtaining the bond will perform all work in accordance with applicable rules and regulations or be held responsible in cases of fraud or malpractice. The surety bond contract is between three parties: the principal, the surety, and the obligee.
Principal: the owner(s) or the company obtaining the bond
Surety: a company that provides financial backing for the surety bond
Obligee: the government entity or licensing agency that requires a bond to be obtained
When a bond is issued to a principal, the surety company provides financial backing in the event that a claim is filed against the bond. While the surety pays for valid claims up to the bond's full amount, the principal is required to pay back the surety in full for any money paid out.
Surety bonds allow a contractor to operate without tying up capital. In lieu of a bond, some licensing entities will allow the principal to put up the full bond amount in cash or collateral. If the bond amount is $20,000, that's a lot of money moving back out of the contractor's operating budget.
Surety bonds are not transferable. When you purchase a surety bond, it is in place to guarantee that specific bond. No second obligations can be added to the existing bond; a second bond would need to be purchased.
Bonds are not insurance
A bond is not the same as an insurance policy. Unlike insurance, surety bonds do not protect the principal. The surety bond protects the obligee requiring the bond and the customers of the principal. The bond does not remove the liability from the principal.
The two types of surety bonds
For contractors, there are two basic types of surety bonds: general construction bonds, and contract bonds.
1. Construction bonds
A construction bond refers to license and permit bonds that are typically required for individuals of various occupations to legally work in certain areas. Contractors might need a bond for each city, county, or state they perform their work in, depending on the obligee's specific licensing or permit requirements.
For example, City A may require you, a contractor, to post a $15,000 bond listing you as a general contractor. City B might want a $10,000 bond listing you as a general contractor. If you plan to perform work in both of these cities, you would be required to comply with both sets of bonding requirements.
Read more: Contractor licensing requirements in all 50 states
2. Contract bonds
Contract bonds are also known as performance and payment bonds. These bonds guarantee a contract the principal has with the property owner. These contracts could range from road construction for a city to wiring for a county building.
These bonds do not have any sort of blanket coverage. Instead, they are issued on a contract-by-contract basis that guarantees the completion of only that specific contract. If another contract requires a surety bond, a second bond must be secured.
When applying for a quote for a contract bond, be sure to secure a Request for Proposal (RFP) and a copy of the contract if available. Without an RFP, the surety company will not know what it is specifically being asked to guarantee.
Questions to ask when you're told you need a bond
Before you contact a surety to purchase a bond, you'll need to get answers to these questions from the owner or agency in charge of the project:
What type of bond do I need?

Is this a license requirement?
Is the bond for a government contract?

Is there a specific bond form required for my bond?
What bond amount do I need?
What trade or license must be listed on the bond?
Can the bond be delivered electronically, or do you require physical delivery?
The surety will need this information in order to issue the correct bond in the correct amount to satisfy the project's requirements.
Will a credit check occur?
Any bond that requires underwriting consideration will require a credit check and the examination of financial documentation. Typically, the credit check is a soft review, so an applicant's credit score will not be impacted.
Many quotes can be issued the same day they are requested, as long as all the necessary documentation is submitted to the underwriters. Don't delay in beginning the bonding process!
Learn more: The 4 factors underwriters consider when issuing a bond
How to get a surety bond
There are five steps contractors will need to take to get a surety bond:
Gather information from the obligee about the specific bond(s) required
Submit a bond application with all necessary documentation, including financial information
Receive your bond quote
Submit payment
File the bond documents with the obligee
What to do after purchasing a bond
Surety bonds can be issued to the contractor by either electronic delivery or physical delivery.
Bonds that can be issued electronically will be sent to the email address on file. The principal must then print the bond, sign it, and file it with the obligee.
Any bond that requires physical delivery requires a raised seal to verify its authenticity — therefore, a specific paper must be used and physically sent to the principal.
Getting bonded is an important part of construction work, but it doesn't have to be complicated. Working with a surety expert is a guaranteed way to ensure you are in compliance — and best positioned to get paid for your work.
Webinar – Construction Bonds 101
Every construction company needs to get bonded, but what do you really need to know to keep your company financially protected?
Check out this webinar led by construction bond specialist Matt Bocklage of SuretyBonds.com to hear the key fundamentals and how they relate to payments.
Was this article helpful?