We started this course by analyzing standard credit management practices and policies, and then we explored the construction industry-specific legal issues you'll confront as a credit professional. This all built up to the financial risk paradigm in the industry, which puts your company's neck on the line.
There are real reasons why payments to you are delayed, and why sometimes, payments are difficult to get. But, will more phone calls and emails work? Is waiting for the stars to align really acceptable to your bottom line?
Security rights is a solution for the construction industry. This refers to the preservation and enforcement of mechanics lien, bond claim, and stop notice rights.
The Security Funnel
Placing your projects through a security funnel, as illustrated above, will have three primary benefits for your company:
Predictable Cash Flow: Invoices will consistently get paid on time, because your invoices are prioritized.
Less Uncollected Debt: You'll recover more overall, because you'll have security.
Higher Sales: With a higher risk tolerance, you can empower your sales team to sign riskier clients.
Let's now quickly explore what your security right is and the lifecycle of your security rights.
Part I:  What Are Your Lien Rights?
We use the term "lien" and "mechanics lien" pretty loosely throughout this email series. That is on purpose since the term "lien" can refer to over 100 separately named remedies. However, it's time to get a bit more specific.
To determine what type of "lien rights" you have you must determine the type of construction project you're furnishing to or working on (residential, commercial, state, federal, etc.). Once you know your project type, you'll have the following rights:
Private Projects, Mechanics Lien:  On private construction projects you'll typically have a mechanics lien right. This is a right to file a claim against the project job site itself, and use the job site's property as collateral for your payment.
State Projects, Bond Claim: On a state, county, city, or municipal project, you'll have the right to file a claim against the bond that is held by the general contractor. Unlike private construction, where the claim is against the property, public construction does not allow foreclosure of public property for debts, and accordingly, a bond is put in place of the job site. The bond is your company's collateral for payment.
Federal Projects, Miller Act Claim: Finally, on a federal project, you'll have a right to a bond claim against the bond held by the general contractor, just like on a state project. The difference is merely terminology, as these are referred to as "Miller Act Claims," named after the law regulating them.
Part II:  The Life Of A Lien Right
Now that you know what you have the right to file it's now important to understand the procedures you must follow to actually preserves and enforce your rights. This is what we refer to as the "Life of a Lien."
You can break down the "Life of a Lien" into the following three stages:
Preservation: Nearly every situation will require you to send some type of "preservation notice" to preserve your right to later file a lien, bond or miller act claim. These notices, called preliminary notices or notices to owner, must be sent to certain parties at the very start of your furnishing.
Perfect: If you are unpaid by a client or customer you'll need to move forward to perfect your lien, bond or miller act claim.  This is done by filing some sort of claim statement or instrument with the appropriate agency.  It is typically required within a certain period of time from when you last furnished to the project.
Enforce:  If your lien, bond or miller act claim is not paid by the party upon receipt, the law will require that you take a litigation action to "enforce" the claim. This means filing a lawsuit to foreclose on the same. This is usually required within a certain period of time from when the claim was originally filed.
Video: How to Preserve Your Lien Rights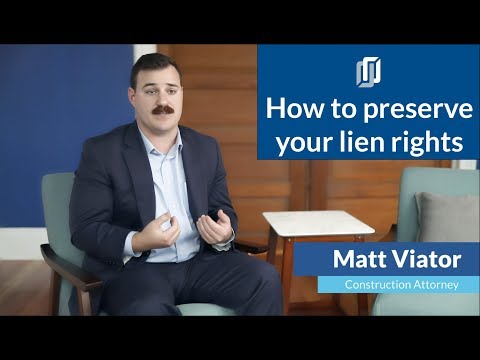 Ready to Move Forward?
Speak to a Levelset expert about how you can implement a lien policy that will help you secure payment on every project. See how Levelset's platform empowers you to leverage your lien rights by eliminating the administrative headaches and legal guess work associated with preliminary notices, lien waiver exchanges, and mechanics lien compliance.
This was lesson 12 of our 12 step course on credit management.
Want to review the last lesson on financial risk in construction? Click here.
We hope you enjoyed this course and found it useful.
Was this article helpful?