This week, Levelset announced the winners of the 2020 Excellence in Managing Payments award. The award recognizes 20 of the largest construction companies in the US who have a demonstrated commitment to fair payment practices. These construction companies are all on the Engineering News Record 400 list of the largest contractors in 2020.
Managing payments on a construction project is hard work. General contractors must collect payment applications, lien waivers, and change orders from their subcontractors, verify them, and submit them to the property owner. Ensuring that payments flow from the property owner down to each subcontractor and supplier on the project can feel like an uphill battle.
The contractors on this list are among the best in the business at managing payments in construction, making sure that everyone on the project gets paid on time, and avoiding mechanics liens and other claims.
The 2020 Winners: Excellence in Managing Payments Award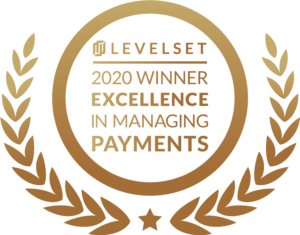 These are the top 20 contractors for fair payment practices in 2020. The winning contractors have each worked on a high volume of projects in the last 6 months, all while avoiding mechanics lien claims and preventing payment disputes on their projects.
They are listed below, in order of the volume of projects they have managed in the past 12 months.
1. Martin-Harris Construction
Projects: 422
Martin-Harris Construction was founded in Las Vegas, Nevada in 1976, and has since expanded into Arizona, California, Colorado, New Mexico, Texas and Utah.
According to Martin-Harris, "we believe that strong and positive relationships with our subcontractor partners are essential to achieving our mutual goals."
2. Hensel Phelps
Projects: 385
Founded in 1937, Hensel Phelps is a General Contractor for landmark construction projects across the country, with offices in Texas, California, Florida, and more. They operate based on what they call the "Hensel Phelps Way," a philosophy based on four pillars of People, Process, Partnership and Technology.
"We have longstanding relationships with our clients and our partners," says Hensel Phelps, "from subcontractors to craft specialists to financing and beyond. We've developed these relationships based on mutual respect and earned trust. We work only with trusted professional partners, all of whom are well-versed in the Hensel Phelps Way. We consider ourselves partners with our clients, fully investing in every project and working towards our shared goals."
3. Hanover Company
Projects: 199
Based in Houston, Texas, Hanover Company works primarily on multi-family residential projects across the country. Part of their mission statement includes "to maintain standards of conduct which guarantee a reputation in the industry of the highest regard."
4. Zachry Group
Projects: 199
Founded in Texas in 1924, Zachry Group now employs more than 20,000 people in over 400 locations nationwide. They are #183 on the 2019 Forbes list of the largest private companies. Zachry specializes in turnkey construction, engineering, maintenance, turnaround and fabrication services in the power, energy, chemicals, manufacturing and industrial sectors. The company makes their commitment to fairness clear in their core values, which include "honor commitments," "do the right thing," and "openness and transparency."
5. Andersen Construction
Projects: 129
Founded in 1950 in Portland, Oregon, Andersen Construction has an established presence in the pacific northwest. According to payment data, contractors working with Andersen Construction are paid on-time on 98% of jobs.
Andersen makes their commitment to fairness clear in the company's core values:
"What we do today, we live with tomorrow. How we serve a client, join arms with a co-worker, partner with a designer, or team up with a subcontractor today determines how Andersen will be received in the future. Therefore, we always base the decisions we make upon how they will position us in the future."
6. Willmeng Construction
Projects: 119
According to their website, Willmeng Construction "serves as an ally to our subcontractor community where open communication is encouraged, on-time payment is expected, and treating one another respectfully and fairly is the rule."
And according to the data, they back up that promise. Based on the all-time 294 jobs publicly available, contractors working with Willmeng Construction are paid on time on 100% of jobs, with 0 reported instances of slow payment.
7. Ames Construction
Projects: 116
Since 1961, Ames Construction has been operating in the mining, transportation, water, and commercial sectors. According to Ames, "we fully invest ourselves in every relationship by honoring our commitments above all else."
According to payment data, contractors working with Ames Construction are paid on time on 98% of jobs.
8. Clancy & Theys Construction Company
Projects: 108
Founded in Raleigh, NC in 1941, Clancy & Theys Construction Company began working on residential buildings. Now they work primarily on commercial construction projects, with specialties in research and development facilities, adaptive re-use of vintage buildings, and renovation and preservation of historic buildings. Contractors working with Clancy & Theys Construction Company are paid on time on 97% of projects.
9. Rockford Construction
Projects: 94
Headquartered in Grand Rapids, Michigan, Rockford Construction has been in business since 1987. According to payment data, contractors working with Rockford Construction are paid on-time on 99% of jobs.
10. Truebeck Construction
Projects: 84
Truebeck Construction, formerly BNBT Builders, According to Truebeck's core values, "Our business is built on relationships. The attention we give to our owners, design partners and the subcontracting community is a must. We believe our true measure is not what we say, but what we do."
And that's not just lip service. According to payment data, subcontractors and others working with Truebeck Construction are paid on time on 99% of jobs.
11. Exxel Pacific
Projects: 66
12. Cajun Industries
Projects: 48
Projects: 45
Projects: 44
15. Nibbi Brothers General Contractors
Projects: 42
16. Lincoln Builders
Projects: 36
17. H&M Company
Projects: 32
Projects: 31
Projects: 27
20. Barr & Barr
Projects: 25