Coronavirus is impacting construction jobs across the United States.  Projects are being delayed.  Supplies are being pinched. People are getting sick and quarantined. Cities are issuing "shelter in place" orders. Developers, lenders, governments, and property owners are crippled, and not administrating jobs. And things could get worse! Contractors and suppliers must act quickly to protect themselves and their cash flow from the coronavirus fallout. This includes filing a mechanics lien as soon as possible.
Mechanics Lien: Protect your cash from coronavirus
You will soon find a delayed project on your hands — 28% of contractors are reporting delayed jobs already. And delayed payment.  There's only one thing you should and must-do if you're waiting for payment on any job: You need to file a mechanics lien right away. This guide will explain why, and will show you how to file a lien in an environment where counties are closing and jobs are in limbo.
The world is on edge and confronting the biggest economic meltdown of the past 100 years. If you want your construction business to survive the coronavirus catastrophe, then you must get greedy about your cash right now.
This means taking a look at all the money owed to you on every job and racing to get paid.  But, since everything is frozen, don't expect much cash to come your way. Instead, take quick action now to file your mechanics lien. This will put you in the best position possible to get the cash eventually.
---
Construction lawyers agree: The time to file a lien is now
And you don't need to take our word for this.  Recently, we asked 9 construction attorneys to give contractors their most urgent coronavirus advice. They said the same thing over and over and over again: Now is the time to file your lien. Now!
Here are a few reasons why filing liens is more important now than ever before:
1. Payment delays will become more prevalent as COVID-19's impact spreads
The construction industry has always had a problem with cash flow. Even before the outbreak of the coronavirus, over half of all contractors in the US don't get paid on time, causing serious cash flow issues. With all of the anticipated project delays, disruptions in supply chains, shelter-in-place ordinances…cash will be tight. Payment timelines will decline. And if you are experiencing slow or non-payment, filing a mechanics lien is the best line of defense to help you get paid.
2. Mechanic lien claims survive bankruptcy filings
As the coronavirus-fueled recession expands, more construction projects will fail, and those in charge may have to file for bankruptcy. If a general contractor or property owner files for bankruptcy during the progress of a project, it causes a financial ripple effect on everyone involved in the project.
Whether or not a contractor will be able to collect their debt during the bankruptcy proceedings depends on whether their debt is "secured." Secured means that it is "backed" or protected by some type of collateral.
A mechanics lien is a "secured debt" because it is a security interest in the real property.
3. Construction work may become more scarce
Another reason to file now is that construction work will start to become scarce. Many states are shutting down construction altogether, while others are allowing projects to continue if they are deemed "essential work." Your next project may not be for some time, which is why it's important to get your accounts receivable in order now. Secure those debts with a mechanics lien to prepare your business for the eventual downturn.
4. Expect payment chaos after stay-at-home orders are lifted
On jobs that have been affected by COVID, project milestones and deadlines have come and gone. This means construction permits may have expired and many construction contracts have been breached.  In the short term, contractors can expect nothing but confusion and frustration regarding billing and payments.  And "back to normal" won't happen overnight.
For more on why liens are important for contractors, watch this webinar by construction attorney Chris Ng: How to get paid during delays & cancellations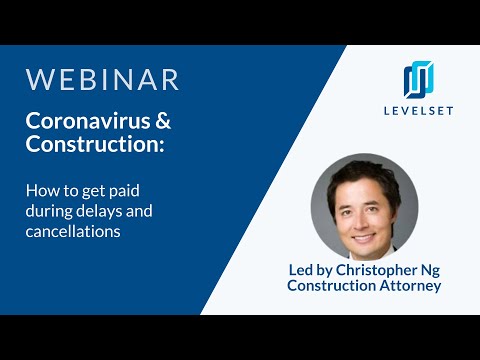 ---
Coronavirus is drying up cash flow in construction
The current economic situation has arrived so suddenly and everyone is shell-shocked.  Many contractors are just fighting right now to continue work, as they fight with governments to label "construction" an essential service.  Don't let this fool you. This crisis will severely impact construction, and you. 
There are no exceptions. In the next 2-3 weeks, you'll see cash drying up very fast and payments paralyzed.  The next 12 months will be a recession environment with many companies going out of business. The general contractors on your jobs, the developers on your projects, and your customers will all have major cash stresses. Many of them will cancel jobs. Many will not have the cash to pay you.
It's extremely important to use the protections available to you. Filing a mechanics lien opens up a ton of possibilities for you to later collect your cash.
There is no other way. In fact, there are at least 17 different ways a mechanics lien works to protect your cash and get you paid.
---
Your window to file a mechanics lien is closing fast
Here's another reason to file your mechanic's lien as soon as possible: You may not have much time!  If your deadline expires, your lien right is gone forever!
1. Watch out for counties closing!  
Governments and county recorders are closing left and right. This is a very big problem that makes filing a mechanics lien even harder, if not impossible. Of course, if the county recorder is closed…well, you probably can't file a lien.
2. Watch out for faster lien deadlines because work has stopped!
Contractors must file mechanic liens within a short window of time after they stop work. In some states, your lien deadline can be shortened when work stops, referred to as a "cessation of labor."   Here are the states where this can happen:
While it's possible that governments will extend legal deadlines because of the COVID disruption, the future extensions are not clear. This will be very messy. And you want to avoid the mess.  Therefore, you want your lien claim recorded, and your rights safely protected.
So, move fast. And, even if a county is closed, there may still be a chance to record your lien electronically.
---
Filing a mechanics lien when coronavirus is impacting your job
In normal circumstances, filing a mechanics lien is hard. You can learn more about the process in our guide that walks you through filing a mechanics lien in any state.  And watch this video: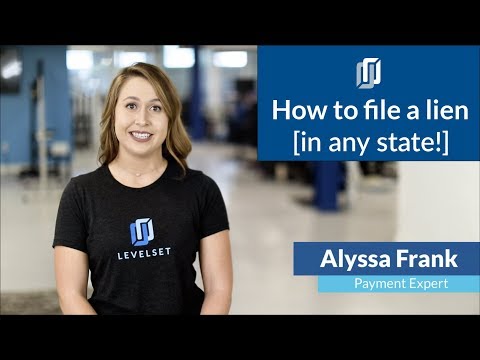 However, these are not normal circumstances. Definitely consult the ordinary resources for filing your lien, but also keep the following steps in mind.
1. Skip any warning notices (if you can)
Levelset usually recommends sending a warning before filing a mechanics lien. Sending a warning is cheaper, easier, and helps preserve relationships.  Further, sending a warning is often very effective. These warnings are usually called Notices of Intent to Lien.  See: What is a Notice of Intent to Lien and Should I Send One?
In the wake of the COVID-19 situation, we have a different recommendation:  Do not send a warning unless you absolutely must.
Today, the most important thing is getting your lien recorded. Get your lien recorded and get it recorded fast. There are 9 states where you must send a notice of intent to lien before you can file a lien. In these states, take quick action to satisfy this requirement.
The states that require a Notice of Intent on private jobs are:
Arkansas
Colorado
Connecticut
Illinois
Louisiana
Missouri
North Dakota
Pennsylvania
Wisconsin
Wyoming
However, make certain the requirement applies to your job and situation. Find out if your state requires a notice of intent before filing a lien in our State-by-State Resources for the Notice of Intent to Lien.
And act fast. Sending a notice of intent may require you to get it delivered. It may be very difficult to get certified mail accepted in this environment – especially at business addresses. So, skip the notice if you can. And if you can't skip it…get moving fast on it!
2. File your mechanics lien electronically
So many counties are closing their doors to the public, but still accepting electronic recording. Although normal lien filing instructions may send you to the county to get a lien stamped, in the current environment, you'll likely need to file electronically. Learn your options for filing a mechanics lien remotely when your county office is closed
Unfortunately, this is not as easy as it sounds. County recording offices will only accept e-recording from approved "submitters."  Becoming a submitter is complicated. You need to get a submitter account with the county's e-recording software, you'll need to pay a fee, you'll need to execute a Memorandum of Understanding, etc.  For almost all contractors, it doesn't make sense to become a submitter.
Instead, you can use a tool like Levelset.  Levelset is an authorized e-submitter and e-Recorder with almost all counties across the country that accept electronic recording. If a county is accepting electronic recording, we can help you get a lien filed. E-File your mechanics lien with Levelset now.
3. Serve the lien electronically and closely follow up via certified mail
One important step in filing a mechanics lien is getting the lien served. In some states, like Pennsylvania, this actually requires physical service by the Sheriff's office. In the COVID environment, this may be next to impossible. In places like California, Florida, Texas, and Arizona, and almost all other states, you can serve the lien by certified mail. But, as mentioned earlier, it may be very difficult to get certified mail actually accepted in this environment.
So, what to do?
First, take the appropriate measure and make an attempt. Document that you made the attempt to do it correctly, as per the statute.
Second, give electronic service. When you file a lien with Levelset, the other parties get electronic notification of the lien. Though the case law is mixed in this area, there are many circumstances when the electronic notification and/or "actual knowledge" of liens, notices, and the like have survived in court. And with the COVID situation, you will have the best argument possible if you get the other parties to receive an electronic notice.
Third, monitor the situation. As soon as there's the opportunity to make actual service…take it!
Was this article helpful?