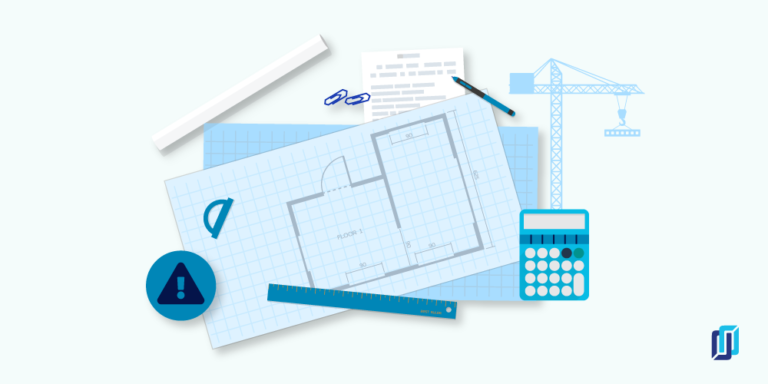 Thousands of contractors use Levelset to get paid faster.
Find out what you're missing. Talk to a payment expert today.
Get a call
Everyone knows that construction can be a tough and sometimes volatile business. While there might be plenty of money for the making, there are also loads of risks that can take a project or construction company out at the knees. And, the most common construction risks tend to be repeat offenders, affecting job sites worldwide. 
Construction risks often mount and hit newer inexperienced contractors before they have the time to see what's going on. Understanding the most common risks that  construction projects face will help you recognize red flags and avoid any potential risks to project security or finance.
10 Construction Risks To Prepare For
There are many moving parts when it comes to project completion, and it often may be hard to balance contracts, budgets, workers, subs, deadlines and quality assurance simultaneously. These all come with an assortment of different construction risks that can halt a job or even terminate it completely, if not properly prepared for.
In order to reduce the chance of something going wrong, it's important to recognize these potential outcomes and take the appropriate steps to prevent them.The following are some of the most common challenges that contractors, subs, and even suppliers face. Recognizing these construction risks is good practice for contractors of any experience.
1. Delays
Without a doubt, delays are one of the most common risks involved in construction. Pushing back the delivery date on projects affect almost everyone on the job. Delays often come from issues like:
Poor project management
Material availability
Change orders
Accidents
Adverse weather
Inspector scheduling
While timelines and schedules are good guides, they rarely take all of the variables and possibilities into account. As delays are often the result of other risks on this list, getting ahead of them and maintaining an open line of communication between the subs and project management is one of the only ways to minimize their effect on the project.
Read more: Schedule Delay: How to Assess & Reduce Impact in Construction
2. Missing paperwork
Keeping up with paperwork on a construction project is a full-time job. While it may not sound like the greatest danger, missing necessary paperwork is a serious construction risk. Contractors that use the dashboard of their work truck as a filing cabinet are definitely the weakest link in the chain. One receipt hiding under the seat can cost them quite a bit of time and money. Just a few of the documents that if lost can cause problems are:
Preliminary notices
Lien waivers
Pay apps
Stop work orders
When you consider that many subcontractors are working on two or three projects simultaneously, keeping up with every GC's deadlines, required compliances, and submission methods can be a hassle. For GC's, tracking down pay apps, lien waivers, and compliances takes time away from more pressing tasks. Also, without insurance documentation or the right contractor license, there can be legal issues or fines on the docket. The obvious solution here is proper organization and document tracking.
Get help keeping your paperwork in check with Levelset's Document Checklist for Contractors.
3. Fluctuating materials pricing and availability
When a contractor enters into a lump sum contract, materials pricing can be one of the most significant risks to the job's profitability. If they don't factor in a bit of wiggle room to cover spiking costs, there are a number of factors that can turn the job upside down. 
It doesn't always take a global pandemic to drive up the price of materials. Cost increases can be driven by:
Trucking labor issues
Natural disasters
Business closures
Spikes in demand
Risks like these can put a premium price tag on once reasonably-priced items. If the contracted mark-up can't absorb the price increase, every material purchase actually costs the contractor or sub money. Make certain to account for these possibilities when drafting contracts that may be affected by this.
Get materials now, keep your cash.
Enjoy 120-day payback terms with any material supplier.
4. Poor project management
One of the biggest concerns seasoned subs have is working with a new general contractor. Without knowing how that GC works or what type of experience they have, there's some significant risk in taking the project.
Poor project management can lead to misunderstandings, miscommunication, and disputes. When a general contractor or project manager isn't clear on what's expected or does a poor job of scheduling subs, time and materials can go to waste.
Poor project management can cause a ripple effect across other projects as well, doubling the risk for subcontractors trying to make a living. If subs are waiting for other subs to finish their work before starting their own, a scheduling snafu pushes out their timeline. That could mean pushing out the timeline on another project.
Try to make certain the general contractor you will be working with is qualified and capable.
Further reading:
How to Prequalify a General Contractor
Prequalification: How to Avoid Bad Contractors, Subs, and Suppliers Before They Become Your Problem
5. Labor shortages
Labor is always a construction risk with projects of any size. Finding qualified employees that are reliable and hardworking can be a tall order. There's always a risk that manpower lined up for a project might fall through.
Some smaller subcontractors don't keep staff on full-time. Instead, they hire a few guys that bounce back and forth between contractors. When a contractor takes a project and finds out they don't have the manpower to finish it, it can slow everyone on the job down. Again, this pushes out the timeline and cuts into your profitability.
Also, where unions are involved, your project could be on the up-and-up and still feel the effects of a strike. Solidarity across locals can mean your entire union workforce walks off the project in protest.
6. Poorly defined scope of work
It's hard to keep a project on track when it's unclear what that track looks like. A poorly defined scope of work is a management issue that can (and usually does) roll downhill. If you're working under a fixed price or lump sum contract, it's important to take note of items like:
Site conditions
Customer input
Materials pricing
These can drive the cost of a project up and profit margins down. However, there are mechanisms to use like cost-plus contracts for avoiding the effects of a job without a definitive scope. Improving communication on every project level can lead to a better-defined scope and help you stay profitable by avoiding scope creep on your projects.
7. Confusion around change orders
Change orders are an unavoidable part of the construction industry — and they're not an inherent risk as much as something to manage carefully. Managing change orders poorly means missed opportunities, eating costs, and losing money.
When changes come up, which they will, it's vital to get them written down and signed. A change order is a miniature contract that memorializes a change and authorizes the contractor to complete the project with a determined solution. Not handling them as such means that your company could be completing work for which the GC or customer didn't give the go-ahead. Many a payment dispute has arisen from a verbal authorization of a change order.
Keep your change order documentation in line. If you need to get started filing a change order, Levelset has free change order templates available to download. Easily document and submit the changes required to make changed work a written part of the contract — and avoid the risk of payment disputes.
8. Health and safety hazards
The building industry provides a very dynamic line of work, and year after year, it ranks toward the top of the most dangerous industries. The construction risk of health and safety hazards is ever-present, especially on large-scale projects. 
There are a lot of moving parts to a full-scale project, and even general contractors with full-time safety staff can't oversee everything all the time. There's always a risk of an inspector showing up on site and fining the contractor for violations or issuing stop orders until there's a resolution.
And, should a terrible accident occur, it can have a site-wide effect. Morale can drop while insurance rates and management stress rise. You can all but forget about delivering the project on time.
9. Bankruptcy
The financial failure rate for construction is extremely high, and sometimes the easiest and least messy way out is filing for bankruptcy. Many companies do so, restructure a bit, and reemerge stronger than ever. Others turn out the lights and lock the door to the trailer on the way out.
When a bankruptcy occurs on a project, it can affect everyone on the job. Depending on who is filing, it can freeze all progress on the site for a time. There might even be equipment repossession or suppliers calling for financed materials. While it might be less common than a run-of-the-mill delay, a bankruptcy is always a risk on a construction project. However, there are ways to secure your payments in such a situation.
Read more: How to Protect Your Payments During Construction Bankruptcy
10. Payment disputes
The amount of time it takes to get paid in the construction business is among the longest of all industries. Many contractors become accustomed to it and accept that it will be months after the job is complete before they receive a check. 
The effects of slow payment and payment disputes are tough on a company. Between loans and interest rates, every day that goes by cuts into the profits. With enough time, a contractor might barely break even while still relying on the cash flow to front another project.
The best methods for speeding up payments on your projects are sending preliminary notices at the beginning of every project and filing mechanics liens when there's no payment in sight.
Discover how a Florida contractor's average DSO went from 60 days to 14 days after sending notices on every job.
The preliminary notice serves as an introduction between your company and the folks cutting the checks. It also protects your lien rights in many states. A mechanics lien attaches to a project which can cause financing issues and saleability problems for the owners. Also, it's a gateway to a lawsuit if the owner or GC refuses to pay.
The point is this: While payment disputes are always a risk on construction projects, protecting your lien rights means you're in the driver's seat. You don't have to settle for extended pay periods or non-payment anymore.
Was this article helpful?
3
out of
4
people found this helpful